Podcast: Play in new window | Download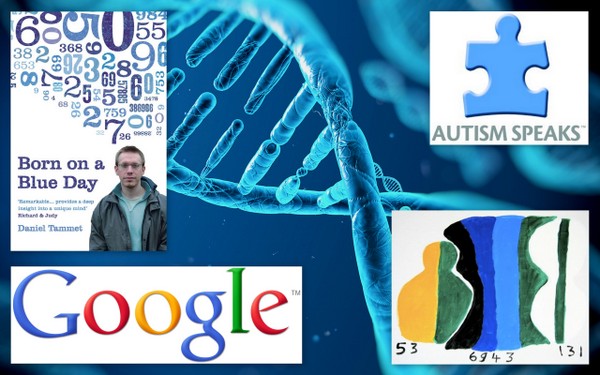 Welcome to Episode 094 of the All About Autism Podcast. Your usual hosts, Dave and Heather Eaton are still unavailable to join us, as they transition to their new lives in California. So, your two guest hosts are back again — Jason Producer Jason and his wife, Natalie Pyles, of the Book Review Podcast.
In this show, Jason and Natalie talk about one of the biggest news stories to hit the autism world: Autism Speaks and Google team up to build the largest genomic database on autism! So, join us and learn about autism history in the making in Episode 094! Thanks for listening.
The All About Autism Podcast is talk radio for those desiring to be familiarized, energized, apprised, advised and empathized with regarding all things Autism. Your husband-and-wife hosts, Dave and Heather Eaton, bring you a weekly show with new releases every single Saturday.
Show Notes:
1.) Introduction
— Guest hosts Jason and Natalie Pyles
2.) Autism in the News
— From Jeff in Indiana: Little Star Center.org
— Sherlock Holmes does not have autism
3.) Main segment: The Largest Genomic Database on Autism
— Wall Street Journal video report
— Autism Speaks.org
4.) Autism Book Review by Natalie Pyles
— Book: Born on a Blue Day by Daniel Tammet = 4 out of 5 stars!
— Daniel Tammet on Letterman
5.) 2014 Utah Walk
for Children With Apraxia
— Read about the Utah walk here.
— 2014 National Apraxia Conference — July 10-12, 2014
6.) Listener Feedback
— E-mail from Justin
— Comment from Clyde
— E-mail from Jody
— iTunes review from Jeff (leave us a review and get a free SmartKids ID — while supplies last!)
7.) Closing remarks / Wrap-up
8.) "The Autism Anthem" by Dave Eaton
Next week's episode: Episode 095 will be released next Saturday, June 21, 2014. Don't miss it!
Links for this episode:
Brian King's podcast and Web site here: Succeed With ADHD Anyway.com
Trailer: Wretches & Jabberers
Hear Natalie's most recent episode of Book Review Podcast with special guest Jason Producer Jason!
Jason's weekly show about new movies: Movie Podcast Weekly
The All About Autism Podcast is now on Facebook! Like us!
You can leave your comments at the bottom of the show notes for this episode, or you can e-mail us at AllAboutAutismPodcast@gmail.com, or you can call and leave us a voice mail at (801) 382-8789.
Contact Us!
Call and leave us a voice mail: (801) 382-8789
E-mail us with comments and questions: AllAboutAutismPodcast@gmail.com
On Twitter: @AllAboutAutism
Subscribe FREE: iTunes
Subscribe FREE: RSS
Hear The Autism Anthem by Dave Eaton and download the MP3 for Free!
Dave's latest music video: "Brief Relief"
The All About Autism Podcast is sponsored by Eaton Alliance.