Podcast: Play in new window | Download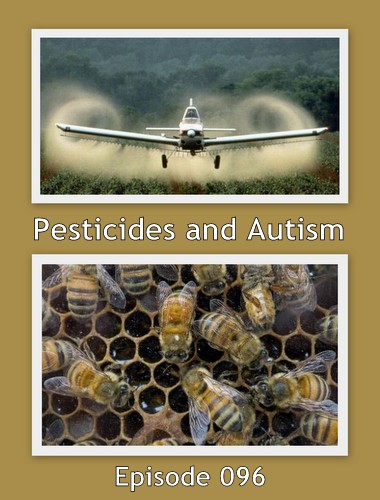 In Episode 096 of the All About Autism Podcast, your guest hosts Jason Producer Jason and his wife, Natalie Pyles, of the Book Review Podcast discuss the latest news flurry concerning Pesticides and Autism. Some disturbing findings have been reported this past week, so we discuss the big news for you.
Also in this episode, Natalie talks about an article that describes what it's like to be on the autism spectrum. And Jason discusses the autism rates in immigrants and minorities. All of this and more awaits you during Episode 096 of the All About Autism Podcast. Thanks for listening.
The All About Autism Podcast is talk radio for those desiring to be familiarized, energized, apprised, advised and empathized with regarding all things Autism. Your husband-and-wife hosts, Dave and Heather Eaton, bring you a weekly show with new releases every single Saturday.
Show Notes:
1.) Introduction
— Guest hosts Jason and Natalie Pyles
2.) Autism in the News
— Autism Rates Higher Among Certain Immigrants and Minorities
— Raising an Autistic Child: Coping With the Costs
3.) Main segment: Pesticides and Autism
— Newsweek article
— Scientific American article
— Jason and Natalie recommend streaming the "Hungry for Change" (2012) documentary on Netflix
4.) BONUS Segments:
— What It's Like on the Autism Spectrum
— NY Times editorial column: How to Think About the Risk of Autism — by Sam Wang
5.) Closing remarks / Wrap-up
— Please participate in the All About Autism Podcast community by leaving a comment!
6.) "The Autism Anthem" by Dave Eaton
Next week's episode: Episode 097 will be released next Saturday, July 5, 2014. Don't miss it!
Links for this episode:
Hear Natalie's Book Review Podcast
Jason's weekly show about new movies: Movie Podcast Weekly
The All About Autism Podcast is now on Facebook! Like us!
You can leave your comments at the bottom of the show notes for this episode, or you can e-mail us at AllAboutAutismPodcast@gmail.com, or you can call and leave us a voice mail at (801) 382-8789.
Contact Us!
Call and leave us a voice mail: (801) 382-8789
E-mail us with comments and questions: AllAboutAutismPodcast@gmail.com
On Twitter: @AllAboutAutism
Subscribe FREE: iTunes
Subscribe FREE: RSS
Hear The Autism Anthem by Dave Eaton and download the MP3 for Free!
Dave's latest music video: "Brief Relief"
The All About Autism Podcast is sponsored by Eaton Alliance.