Podcast: Play in new window | Download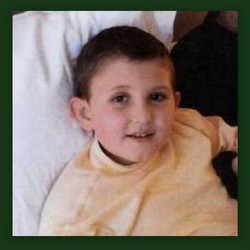 Hi, and welcome to Episode 112 of the All About Autism Podcast, where your hosts Dave and Heather Eaton spend some time thinking about the unthinkable: First, they discuss a young man on the autism spectrum who was killed by a train. Then Dave and Heather talk about the recent news regarding Gigi Jordan's explanation of what drove her to kill her 8-year-old son, Jude Mirra, who is pictured at right. This particular show is a little somber, due to its subject matter, but the Eatons feel these are important issues to discuss, and you're in good hands with them. And later on, in our listener feedback section, we have some great news where we've been able to implement a brilliant listener suggestion! Thanks for listening.
The All About Autism Podcast is talk radio for those desiring to be familiarized, energized, apprised, advised and empathized with regarding all things Autism. Your husband-and-wife hosts, Dave and Heather Eaton, bring you a weekly show with new releases every single Saturday.
Show Notes:
1.) Introduction
2.) Autism in the News
— Autistic middle schooler killed by Amtrak train
3.) Main segment: Gigi Jordan explains what drove her to kill her 8-year-old son
4.) Listener Feedback:
— Ruth Sarah's comment brings about Eaton Alliance Trunk-or-Treat 2014
5.) Closing / Credits
6.) "The Autism Anthem" by Dave Eaton
Next week's episode: Episode 113. That episode will be released next Saturday, November 1, 2014. Don't miss it!
Links for this episode:
The All About Autism Podcast is now on Facebook! Like us!
You can leave your comments at the bottom of the show notes for this episode, or you can e-mail us at AllAboutAutismPodcast@gmail.com, or you can call and leave us a voice mail at (801) 382-8789.
Contact Us!
Call and leave us a voice mail: (801) 382-8789
E-mail us with comments and questions: AllAboutAutismPodcast@gmail.com
On Twitter: @AllAboutAutism
Subscribe FREE: iTunes
Subscribe FREE: RSS
Hear Jason Producer Jason's show at Movie Podcast Weekly
Hear The Autism Anthem by Dave Eaton and download the MP3 for Free!
Dave's latest music video: "Brief Relief"
The All About Autism Podcast is sponsored by Eaton Alliance.